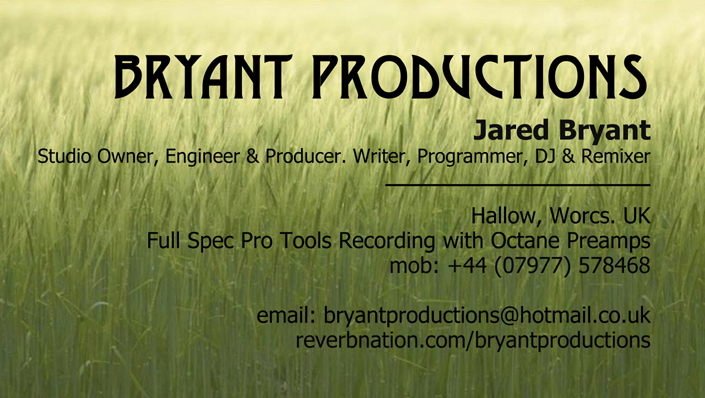 Jared Bryant has lived, breathed & eaten music since he was 7 yrs old. Under many different guises, he has been behind bands & projects such as: 'Edgeway, The Black Country Bandits, Project Blubook, Phat City Soul, Partnerz in Krime, Severn Valley Soul, Lucy & The Lost Boys, Jaja's Garaj & Revamp Recordings'. From workin as a roadie for 'Blur, The Rolling Stones, Oasis, Elvis Costello & Soundgarden' to DJ'ing at: 'The Que Club, The Canal Club, The End (RIP) & The Hacienda', Jared has kept his feet deep underground, prefering to master his art from the shadows. During the last ten years, he has also recorded & produced over fifty up & coming artists or bands, and now finally has his own 'Severn Valley Studios' deep in rural Worcestershire. Whether you want a Producer, Remixer, Songwriter, Sound Designer, Programmer, Studio or DJ - Jared Bryant, aka 'Bryant Productions' is the solution to all your musical needs.

Trained at Stourbridge College, Sandwell College & Salford University, as well as working for 'PRG' (Birmingham), 'Stage Miracles' (London) & 'MAS Records' (Kidderminster); 'Bryant Productions' will evolve almost any creative, musical idea into a finished, professional project.

As an engineer & producer, past clients have included: American Pen Pal, The Ananukis, Aura, Beyond Redemption, Blakcan, Black Pearl, Cathy McMeikan, Cellardoor, Chevron, Chicago Bytes, The Daniels, The Dead Ends, The Disciples Of Tone, The Hoop Group, Imogen's Kiss, In Ruin, Kemistry A, Kirk Shuttleworth, Knockout Ned, Kole Lyra, My Great Affliction, The Last Picture Show, The Lights, Lucy & the Lost Boys, Peace, Rundown, Silva:Code, Strange Time, Strangle Kojak, The Vanderbeats, Violet Beauregard, The Underdogs, The Whoo & Yin.

With state-of-the-art equipment (@ Severn Valley Studios), inspirational facilities and high-end microphones, Jared can operate a cost-effective service, usually between £15 - £25 per hour. (Discounts for students & under 21yr olds).
So, if you're ready to fullfill your musical abilities, then contact him at:
Jared Bryant:

(07977) 578468
bryantproductions@hotmail.co.uk
Listen to Bryant Productions
HERE